| | |
| --- | --- |
| Caste, Ambedkar, and Contemporary India | |
About the Exhibit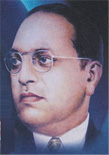 This exhibit complements the conference, "Caste and Contemporary India," taking place on October 16th and 17th, 2009, at Columbia University in honor of alumnus Dr. B. R. Ambedkar. The conference is co-sponsored by the South Asia Institute, the Center for Human Rights Documentation & Research, the Center for the Study of Ethnicity and Race, the Department of Middle East and Asian Languages and Cultures, the Institute for Religion, Culture and Public Life, and the Institute for Social and Economic Research and Policy.
The exhibit features a sampling of resources on issues of caste with reference to gender, politics, constitutional history, and religion in contemporary India. We highlight resources available in the South Asian Studies Collections at Columbia University Libraries and reference research carried out by our faculty and students on these themes. The exhibit includes limited views of copyrighted works, many full-text works freely available online, and links to subscription resources available only to Columbia faculty, students, and staff. Many of the subscription resources may be available in other research libraries. We also feature links to the extensive network of non-governmental organizations dedicated to issues of caste and Dalit rights.
When talking about caste in the context of contemporary India one cannot but talk about Ambedkar. Born into an untouchable family Dr. Bhimrao Ramji Ambedkar (14 April 1891-6 December 1956) also known as Babasaheb, endured many social and financial difficulties in his lifetime. Fortunately, royal patronage helped him pursue his studies abroad at Columbia University and the London School of Economics. He was the chief architect of the Constitution of India. Fighting against all forms of social injustice, he became the champion of Dalit rights in India. There are several documents highlighting Ambedkar's experience at Columbia University in the exhibit.
Exhibit Curator
Bindu Bhatt, Curator and Librarian for South and Southeast Asian Studies